Tanya joined 14 chefs from across the country to compete for the title of Top Chef. Amid the stunning backdrop of Colorado viewers experienced sights (the breathtaking Rocky Mountains) and challenges (making an oven in the snow) that have never been seen before on Top Chef.
A Belle Époque for African-American Cooking January 26, 2016
"At Brown Sugar Kitchen in Oakland, Tanya Holland's Creole shrimp and grits seems to be infused with concentric layers of flavor. Customers feel so passionate about the dish that they regularly pay tribute with love letters left on their tables."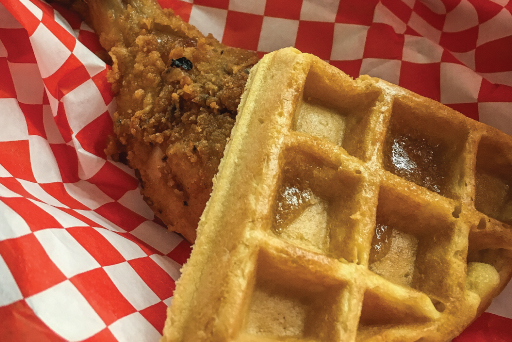 Residential & Dining Enterprises Food Plan For Mind, Body and Soul
March 10, 2017
Holland is one of a handful of chefs who, according to the New York Times, represents "a new generation of black chefs and cookbook authors … reinventing, reinterpreting and reinvigorating what's thought of as African American food."
THE WELCOME TABLE Chef Tanya Holland hosts a soulful seder.
April 2015
At Brown Sugar, customers of all races and classes commune over her chicken and waffles. For her seder, Holland wanted that same harmony of people and flavors. So last year, she and Surkis invited friends—African American, Jewish, or both—to their house in Oakland. The menu reflected the heritages around the table: It was based on seder classics like matzo-ball soup, but infused with the flavors of the African American South and North Africa.
A WAFFLE TOO FAR? NEVER
Gourmet Magazine
by Jonathan Gold
The pan-fried chicken, soaked overnight in spice-infused buttermilk, may well be the best fried chicken in California, impossibly juicy, stained Tabasco-scarlet beneath its crackly crust, flecked with pungent fragments of fresh herbs. The cheese grits with shrimp would be renowned even in South Carolina.
The Restaurant That's Changing the Face of Gritty West Oakland
Oprah Magazine
by Emily Kaiser Thelin
Behind the diner-style counter, chef Tanya Holland ladles batter onto a waffle iron for airy, yeasty, cornmeal waffles to serve with tarragon-laced buttermilk fried chicken. The classic combination was allegedly created for jazz musicians who got off work so late, they couldn't decide between breakfast and dinner. 
A Love-It-or-Hate-It Guide to Thanksgiving
Food & Wine
by Novella Carpenter
"I love Thanksgiving" Tanya Holland says, "It's non-denominational; everyone's invited. My gatherings tend to be a little like the island of misfit toys". The chef is so devoted to the holiday that the she was a homesick 26-year-old student at France's prestigious La Varennes cooking school, she inviter her classmates to a Thanksgiving Dinner.